The Catholic Bach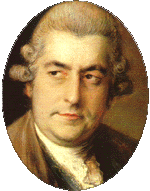 Johann Christian Bach, commonly called the "English Bach," was the youngest son of Johann Sebastian Bach and Anna Magdalene. He was born in Leipzig on September 5, 1735. In 1750, when J.C. Bach was only fifteen, his father died, and he went to Berlin, brought by his half-brother Wilhelm Friedemann Bach to live with another brother, Carl Philipp Emanuel Bach. For four years, J.C. Bach was instructed in music by his older brother, and in Berlin became familiar with Italian opera. He was greatly enthusiastic about this genre.

In 1754, J.C. Bach went to Italy, and was appointed maestro di cappella to Count Agostino Litta, who gave him funds to train under Padre Giovanni Battista Martini. During this time, J.C. Bach became a Catholic, and devoted much time to the composition of church music, including two Masses, a Requiem and a Te Deum. His first major work was a Mass, which received an excellent performance and acclaim in 1757. In 1760, J.C. Bach was appointed organist at the cathedral in Milan. That same year he composed his Magnificat. The arias in particular demonstrate the powerful affinity for opera the composer already felt in Milan. They possess extraordinarily attractive melodies and are conceived in the expressive style which also dominated Italian church music around this time. The texts are given emotional interpretation, every nuance is exploited.

J.C. Bach, by this time, had lost some of his preoccupation with church music, and turned to his first love, the theatre. He began to compose a number of operas. In 1761, Artaserse was performed in Turin, followed in Naples by Catone in Utica. One year later, also in Naples, Alessandro nell'Indie was performed. These three operas were very successful, and J.C. Bach's reputation became incredibly widespread.

On February 19, 1763, J.C. Bach's first opera for England was performed - Orione - which was in fact staged at the King's Theatre. The King and Queen attended the first performance, and were so enthralled they returned to the second performance. Orione ran for three months, and J.C. Bach was awarded the position of Music Master to Queen Charlotte. He would retain this post until his death.

In 1764, J.C. Bach became friends with Karl Friedrich Abel, a pupil of Johann Sebastian Bach, and a composer and virtuoso on the viola da gamba. Abel was chamber-musician to the Queen, so came into frequent contact with J.C. Bach. The two became fast friends, and often held joint concerts in London. For more than seventeen years, J.C. Bach and K.F. Abel performed together, adding to the fame of each.

The same year that he met Abel, J.C. Bach also met Wolfgang Amadeus Mozart, who was still a child. When introduced to each other, they had an immediate connection and great mutual affection. J.C. Bach frequently would have tests for Mozart's genius, each of increasing difficulty, and he was awe-struck at the ease with which the child passed them all. Mozart (the student) and J.C. Bach (the teacher) also gave several joint sonata performances.

J.C. Bach also composed much orchestral, chamber, and piano music, all in the Rococo style. He died in London, on the first day of 1782. He apparently had lived quite extravagantly the last fifteen years of his life, and in consequence left behind a debt of five thousand pounds. It was only due to the effort of his friends that he was given any decent funeral at all. J.C. Bach was buried in the cemetery of Saint Pancras Church in London, in an unknown spot.

In life, he was the most famous musician in England, but after he died, his name was misspelled in the burial register of the Saint Pancras Church, where he was listed as John Cristian Back.

From a journal of the times:
[1782] ... my father prevailed upon Mr. Papendiek to hasten to the Queen, with the news of Bach being so near his end. This roused him, and after this painful mission, he obtained leave to return to his friend, who had just passed away when he reached this room of mourning. The creditors poured in, but Mr. Papendiek, with the assistance of Bach's faithful coachman, who had driven him, I believe, from the first of his coming to England, kept them from disturbing the corpse. The Queen, by the hand of my father, sent the widow a sum for mourning and other necessities, and mourning also for Miss Cantilo, with permission to Mr. Papendiek to remain and report proceedings. Schroeder, Cramer, and one or two others came to see and to hear, but no one among his musical associates came forward with any offer of respect, either public or private, and this great patron was carried to the grave and buried with the attendance only of four friends, my father, Mr. Papendiek, Zoffany, and Bautebart, but they were indeed sincere mourners. They deposited their charge, who was a Roman Catholic, in Saint Pancras' churchyard. The Queen, finding how things were, could not undertake the debts, but the funeral expenses she discharged, and gave the coachman the 100 pounds which he had lent to his master.

Madame Bach, having given up her whole to be divided among those who would not relinquish their claims, now lived among her friends until the time of year arrived that she could return to Italy, her native place. The widow, with one friend and the faithful coachman, quitted England in due course for Italy, the Queen allowing her 200 pounds a year for life, and giving her 100 pounds for her journey. Madame Bach lived but a short time to enjoy the feeling kindness of the Queen.



---

Excerpt from Court and Private Life in the Time of Queen Charlotte: being the Journals of Mrs Papendiek, Assistant Keeper of the Wardrobe and Reader to Her Majesty. Edited by Mrs Vernon Delves Broughton. London, 1887, v.1, p. 151-153.